#5: Idaho
The Gem State takes us to our halfway point in our top 10 list of states that have great recreation. If you're looking for a new outdoor vacation experience, Idaho is your place.
If you want to hop, skip, and play in the snow, you should definitely consider Idaho's unique Nordic adventures. Why is the state a snow paradise, you ask? It's all because it experiences a lengthy snow season and high elevations. Visitors will enjoy skiing and snowshoeing; the state is covered in hundreds of miles of trails for snow-filled adventure.
If you're looking for something else to do that's pretty different, you should try disc golf (basically a combination of frisbee and golf) in Idaho. Idaho state parks that have disc golf courses include Eagle Island, Farragut, Lake Walcott, and Massacre Rock.
And of course, Idaho offers many of the recreation standbys like biking, boating, and fishing. You will never be bored when vacationing in Idaho.
#4: California
The state that gave us gold comes in on our list at number four, and it sure offers "gold" today with its amazing outdoor recreation.
California's recreation can't be mentioned without also mentioning Yosemite National Park. Camping is a must-do at Yosemite, and if you're vacationing to Yosemite during the summer, there are several drive-in campsites to consider.
Lake Tahoe is another must-see when visiting California. There are lots and lots of outdoor activities to do while at the lake, but one that you might not readily think of is kayaking. Imagine gliding across the beautiful clear waters exploring every nook and cranny of the lake. It's all possible, and easier to do with guided tours that are offered there.
It's nearly impossible to mention each and every single outdoor activity to do in California, but hopefully we were able to give you a couple of ideas for your next vacation to The Golden State.
#3: Colorado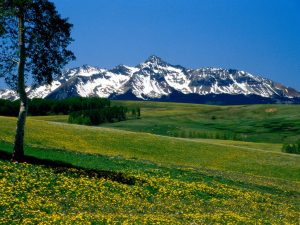 We've made it to the top three states in the USA for outdoor recreation, and the "bronze medal" goes to Colorado. It doesn't matter what time of year you travel to The Centennial State, you will be exposed to great outdoor activities.
If enjoying outdoor color and beauty is your interest, you have to go on a wildflower hike. Flowers bloom at different times of the year depending where you are in the state, but no matter what region you find yourself in, you're in for a treat. A couple of wildflower hikes to consider are Alpine Loop Scenic Byway near the cities Silverton, Lake City, and Ouray, and Rabbit Valley Recreation Center near Grand Junction.
However, if your passion is more adventurous than wildlife viewing, you will want to definitely do some extreme sports. So if you're ready and willing to get the adrenaline pumping, here are some ideas for you: skydiving in Longmont, ziplining near Salida, and paragliding in Telluride. Of course, there are more than just three extreme sports offered in Colorado, but these will definitely get you started.
#2: Wisconsin
There's no shame in coming at number two, and that title goes to the Badger State. With such a diverse geography covering Wisconsin, there are plenty of fun outdoor activities for visitors to participate in.
Wisconsin does a great job at providing its residents and visitors with education along with the outdoors. The state does this with science and nature centers. For example, vacationers can visit a shoreline observation tower or stroll along a marsh crossing boardwalk. Whatever you choose to do, it's guaranteed that you will be engaged and have an interactive experience at one of these centers that are found throughout the state.
Wisconsin is also a prime location for golf. In fact, within just a few years the state has been home to three PGA championships, a U.S. Senior Open, and two U.S. Women's Opens. But if you're not a golf pro, there are still many other options. There are 500 golf courses across the state for you to get your hole in one…or ten.
#1: Utah
Rounding out our list at the big numero uno is the outdoor recreation capital of America, Utah! We can't possibly name all the outdoor activities that are available in the state, but we will share a couple that are definitely worth mentioning.
Absolutely, without a doubt, visitors coming to Utah must go skiing. Utah is known all over the world for having some of the best snow. Their license plate even says, "the Greatest Snow on Earth." Fourteen ski resorts and areas are available for visitors to choose from. Almost every city or town in Utah is close to a ski resort.
Another Utah must-do is exploring Moab. It almost seems like there are a million and one things to do in this eastern Utah city alone. It's a popular place for hiking, mountain biking, and jeeping–just to name a few recreational activities. But let it be known that there is definitely no shortage of fun to be had here.
If you're questioning where you should go for your next vacation, but you know that you for sure want outdoor recreation to be part of the equation, then you should take a close look at one of these ten states. Don't worry–any one of them will satisfy your need for the outdoors. Have fun!
What do you think about this list?