Every year millions of people flock to national parks, monuments, recreation areas, trails and historic areas. Some states reap a harvest of hundreds of millions.  Is your state one of them?  Take a look at the list of the top ten some aren't surprising and some are.
Number 10 Tennessee
At number ten is Tennessee.  Tennessee shares the Great Smokey Mountains National Park with North Carolina.  The fact that the Great Smokey Mountains is the most- visited National Park in the United States contributes heavily into the 637,700,000 dollars that help it come in at number ten.  Other national park attractions of interest are the Andrew Johnson National Historic Park, The Appalachian Trail and Big South Fork National River and Recreation Area.
Number 9 New York
Number nine is New York. New York is home to national treasures such as ,Ellis Island and the Statue of Liberty.  It is also home to Niagra Falls, one of the most recognizable natural features on the east coast. There are a total of 24 different places in New York that are part of the National Park System.  They combine to bring a total of, 701,700,000 into the New York Economy.
Number 8 Washington DC
DC is technically not a state.  With it's overwhelming population of politicians and special interest groups, DC seems more like a circus than a tourist destination. It is home to 25 popular national tourist attractions, all of which are themed or named after politicians, political events or movements from the past. They combine for a total of 782,300,000 which is enough to land at number 8 on this list. The most popular of these are the Lincoln Memorial and Washington Monument.  
Number 7 Wyoming
Compared to the earlier states on this list, Wyoming only has 7 attractions regulated through the National Park system. However, the most popular attraction in Wyoming is also one of the most visited and beautiful parks in the nation, Yellowstone.  Yellowstone was the first national park in the nation and provides unique spectacles year round to a total of more than 4.5 million yearly visitors. Other popular places are the Grand Tetons and Devils Tower. Devils Tower was made popular by the movie Close Encounters of the Third Kind.  Wyoming benefits by 882,400,000 million dollars a year, which is one dollar for every cow in Wyoming. Good enough to land it as number 7.
Number 6 Virginia
Virginia lands at number six on this list and is the first state to break the 1 billion dollar mark from revenue gained through national parks. Virginia benefits from the large population centers that can be found on the east coast and 22 attractions regulated through the National Park Service.  Virginia benefits from an abundance of national historic sites, like the Appomattox Court House, or Historic Jamestowne, two places that are popular for history fanatics. For the more outdoorsy crowd Cumberland Gap, Shenandoah or Prince William Forest continue to be a drawing factor.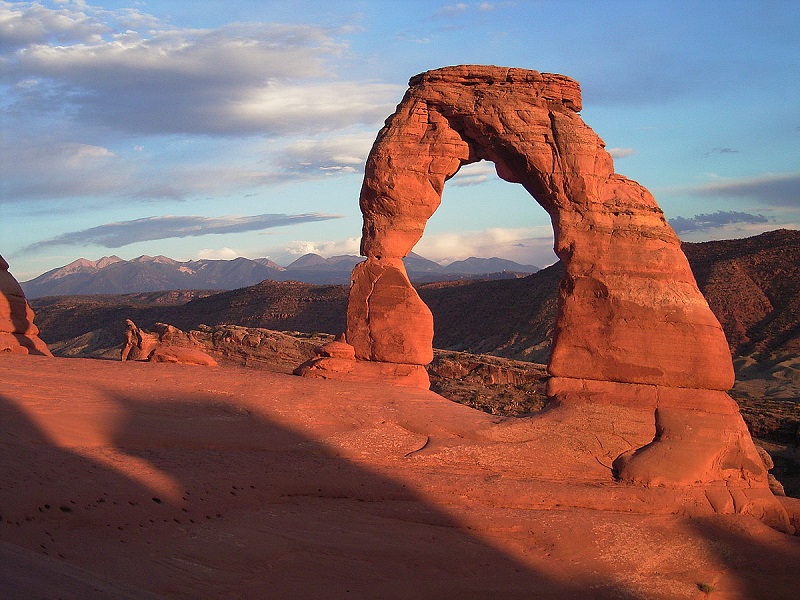 Number 5 Utah
Perhaps it is one of the best known states in the list for all of the wrong reasons. No state has fought harder against National Parks and federalization of the land as Utah. Home to 15 attractions regulated through the National Park Service, it's current fight over Bears Ears National Monument and the Escalante Grand Staircase National Monument have put it on the blacklist of numerous outdoor recreation organizations. The public hasn't reflected the concern, by spending more than 1 billion 114 million every year in the Utah economy by visiting the National Parks in Utah.  Home to wonders such as Arches and Zion, many people question the need for more national parks in the state.
Number 4 Arizona
Arizona has more than 20 sites regulated by the National Park Service.  Many are national monuments, and historic sites. Saguaro National Park is home to the largest cacti and surround the city of Tucson on both the east and the west. However, the majority of the 1 billion 114 revenue comes from visitors to one of the best known national parks in the world, the Grand Canyon. Visitors to the Grand Canyon can take horse rides to the bottom,, raft down the Colorado, or take a few selfies from the rim.  The hardcore tourists choose to backpack from rim to rim. Making the 27 mile journey takes dedication and a little luck to get a permit. If interested apply for permits here.
Number 3 North Carolina
The top 2 National Parks by revenue are the Blue Ridge Parkway and the Great Smokey Mountains. Both of these are located in part in North Carolina.  In addition to those national treasures. The most famous backpacking trail in America or perhaps the world, the Appalachian trail travels through North Carolina.  Add these three to 7 others and North Carolina receives an economic benefit of 1.277 billion in yearly revenue. A trip to North Carolina also features historic sites such as the Wright Brothers Memorial and Fort Raleigh. Check out the other great North Carolina sites managed by the NPS here!

Number 2 Allaska
Alaska is not a surprise to be on this list, but who would have thought it would be number 2.  The NPS manages 24 different sites in Alaska. However, its remote location makes it surprising that enough people visit it to spend more than 1.287 billion a year visiting it's NPS properties.  Alaska's most famous national park is Denali. Denali is home to Mount McKinley the tallest peak in North America. Thousands of people climb Mckinley every year. For people who aren't adventurous enough to attempt Mckinley, they can take a trip to the Aleutian World War II historic park.  This is surely an opportunity to learn about the World War II battles that were fought in Alaska.
Number 1 California
What California lacks in affordable housing, sincere people and water resources, it makes up for in natural attractions.  California benefits greatly from large population centers, diverse geography, and 28 attractions regulated through the National Park  Service. When it comes to well-known national parks, monuments or historic sites, it's impossible to say which one is the most popular. For some, it would be the Golden Gate Bridge, a symbol so recognizable that almost everyone recognizes it. For others Yosemite, or the Mojave Desert is the most popular.  Whatever you desire in national parks, you can find in California. Over 40 million people visit the national parks in California every year and they contribute 1.875 billion dollars a year to the California economy. My personal favorite is Muir Woods, just north of the Golden Gate Bridge.
If you're questioning where you should go for your next vacation, but you know that you for sure want outdoor recreation to be part of the equation, then you should take a close look at one of these ten states. Don't worry–any one of them will satisfy your need for the outdoors. Have fun!
What do you think about this list?